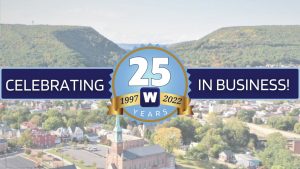 Over the past quarter of a century much has changed. Wars raged and ended. New technologies transformed how we live and work. A pandemic shook the world and receded. Businesses rose and fell as the economy has seen tremendous highs and lows.
Throughout the years and all the challenges, they brought, Willetts Tech continues to serve clients faithfully while expanding services to meet every obstacle the times can throw at us.
So many of the services that we deliver today did not even exist when we started. Today, our clients need the latest technology and techniques to take advantage of cloud computing, protect themselves from cyberattack, and put their best foot forward on social media, among many other digital challenges.
Few of our offered services even existed when we opened our doors for the first time.  As founder and CEO Jason Willetts explains, "Nothing worth doing is easy and we are proud of all the hard work the team has done to get us to this high level of accomplishment." He goes on to say that, "We are excited about the future. Given the same commitment and work, we cannot wait to see where Willetts Tech will stand in another 25 years."
We serve clients from as far away as Arizona and as close as right down the street from our HQ here in Cumberland, Maryland. Hundreds of clients rely on an experienced staff of 25 to deliver the best answers to the most complex technological questions.
As one of our valued clients explains, "Willetts feels like they are part of the family, not an outside company." This proves that of all we offer, we always put the highest priority on customer service. We invite you to check out our wide range of IT services, then see what a quarter century of experience can do for you.
And finally, but most importantly, we want to express our appreciation for all of the trust that our clients have put in us.
Our success comes from your satisfaction. We thank you for your business and look forward to another great 25 years of serving your IT needs!