Helping Human Service Organizations Leverage Technology.
We're the only IT services firm that understands the unique challenges, needs and workflow of a Human Services Organization and can put in place solutions to increase billable hours, lower IT support costs, dramatically increase productivity and support your hectic, crazy-busy work schedule.
5 Reasons to Choose

Willetts Tech


to Support Your Human Service Organization
Specialists in the Human Service Industry. We specialize in helping human service organizations leverage technology. We support thousands of human service workers across the Country, we understand HIPAA Compliance, and we like being a part of the mission to help people.
You'll Get a Professional Team, Not A "One-Man Band" Or Outsourced Help Desk Based In Another Country. We CAREFULLY select, hire, and train top-level professionals who get to know your organization. That way you know exactly who is getting access to your network and data. We also have a deep "bench" of experts you can rely on to deliver efficient, accurate recommendations and fast fixes to any problem you encounter, and any need you have.
Software AND Tech Support. We have developed our own human service software AND we provide tech support for computers and networks. Having one place to call for these services makes it easier and more cost effective for your organization.
NO Nickel-And-Diming. Our service agreements aren't full of clauses and exclusions. When we quote you a fee, you can know with confidence that is exactly what you will pay - not a dime more.
NO Long-Term Contracts. We keep our clients loyal by delivering excellent service - not by handcuffing them with a multi-year contract.
A Message from Our CEO:
We are proud to serve the human service industry and play a role in the work they do. We understand that social workers, case managers, therapists, and the like are on the front lines of human service. With strategic, creative, and effective technology solutions, we empower them to be more effective, more efficient, and we help them help more people. Our products and services allow human service professionals to move past paperwork drudgery and technical issues to provide the highest level of client care.
Not Ready To Call Us Just Yet?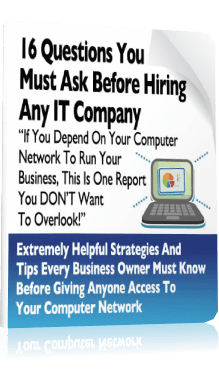 If so, we would at least like to give you a copy of our recently published report, 16 Questions You MUST Ask Before Hiring Any IT Company.
Even if you aren't ready to make a change right now, this free report will explain in simple, non-technical terms what you need to look for when outsourcing your IT support, as well as cost-saving strategies, insider tips and 16 revealing questions you MUST ask any computer consultant before giving him access to your computer network.
Simply fill out the form here and download your copy today!